Introducing: The Director's Blog
Welcome to the first in a series of blogs from me, the new event director of Badminton Horse Trials, where I will be sharing a bit more about what we do month by month in the count down to the event. I will also be introducing you to lots of the team here behind the scenes as we go.
Badminton 2020 might be six months away, but "the huge snowball", as I call it – the annual bringing together of the horse trials family – is well on the road. There have been numerous meetings with contractors, Andrew (Tucker), the commercial director, has been very busy meeting with established and potential sponsors and we've been hearing about Eric Winter's interesting plans for his cross-country course.
Below photo: Jane with long standing site manager Harry Verney (left) and course designer Eric Winter (right).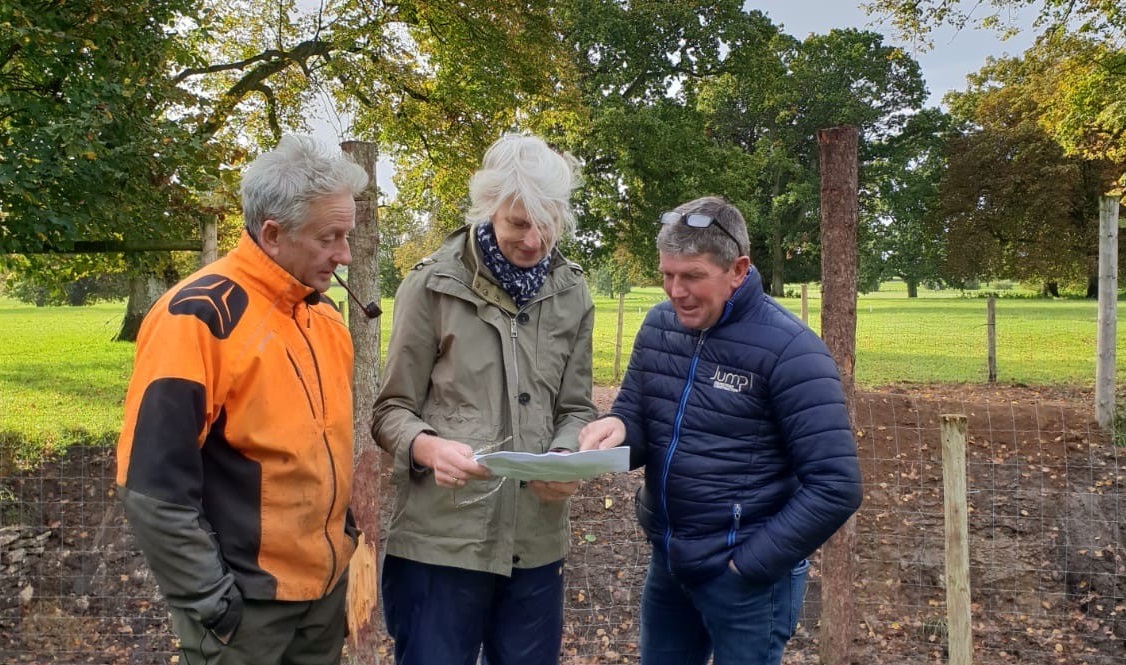 The stables look fantastic after renovations and the Portcullis Yard has had a complete makeover. We've launched the new Badminton logo (see below photo – the new sign going up above our office) and the search continues for a title sponsor, but I hope we'll be announcing official partners in my December blog. The 2019 tradestand holders have been invited back, we've tested out our new scoring system and we're thinking of ways to mark the 75th anniversary of VE Day which falls on the Friday of the event.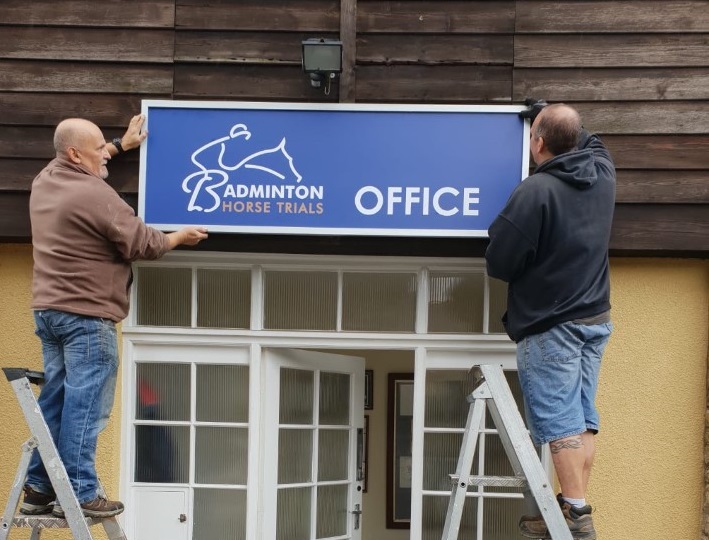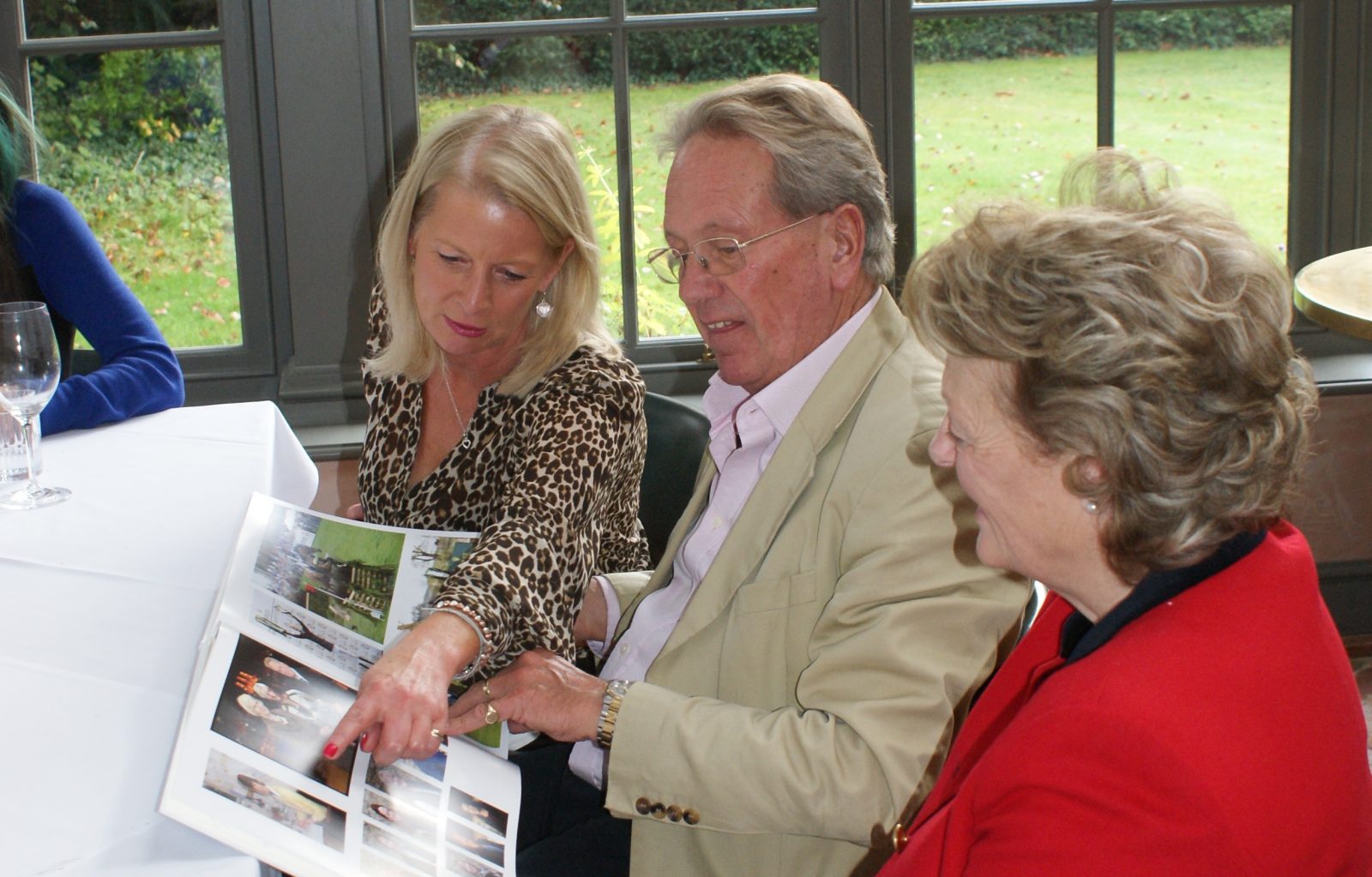 Maintaining the status of the world's premier horse trials during such changing times, as well as enjoying such friendly relations with a loyal title sponsor for 28 years, would be no mean feat in any sport, let alone such an exacting one as eventing. However, you can never stand still and Andrew and I have been getting out and about, gaining inspiration from other events.
I went to Burghley for all four days, where it was great to be part of the presentation to Mark Todd – we were all in tears – and it was particularly special for me as I can remember 40 years back when he first appeared in Britain, in 1980, and won Badminton, making it look so easy even at his first attempt.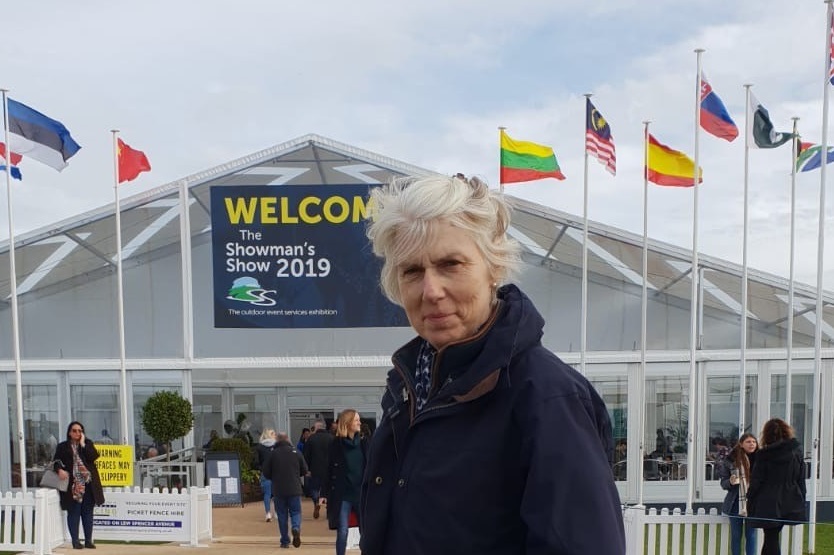 We've also been to Blenheim and to the Showman's Show at Newbury (above photo), which is a great place for ideas. One of my themes for next year is about boosting our sustainability credentials and I've been chatting to caterers and experts about improving signage and using more reusable items. As I write, Andrew is on his way back from the Rugby World Cup so I'm looking forward to his news on how the Japanese do their major sporting events.
On the home front, it's been a sad time as my half-brother, Simon Clarke, died recently – the thanksgiving service was held very recently – and both my husband, Philip, and my horse, Paddy the Patch, have been on the sick list. However, I'm now riding three early mornings a week, which is wonderful, and the great excitement is that Philip's home-bred horse, Galtur, has been on two British Showjumping Nations Cup teams with Helen Tredwell and jumped a double clear in Morocco!
It's been non-stop since May 5, but I'm really enjoying my new role and am feeling fired up about 2020.
Find out more about Jane in her recent Country Life interview – click here to read.
Image credits: top of page Jane Tuckwell with her Lancashire Heeler 'Missy' taken by Mark Williamson/Country Life Picture Library. All remaining images courtesy of Badminton Horse Trials.